We want our children to be inspired, enthusiastic and motivated learners. To help us to do this we arrange a variety of activities and visits to engage children in their learning. We take children on trips in the local community such as The City Farm, Local Walks, Skillzone, visits to local places of worship, Gloucester Cathedral and The Folk Museum. We also take children on visits further afield such as Weston, Beechenhurst. We invite local people in to share their expertise and skills with us e.g. wildlife experts, fire service, museum staff. We have had visits from the theatre, dancers and musicians.
We run a variety of lunchtime and after school clubs. Each year these vary depending on the interests of the children. The majority of these clubs are run by staff but we also have specialist coaches and trainers who come and run clubs for us. There is a charge for some of these clubs.
We also plan whole school learning days and themed weeks such as Art Week, Healthy Living Week, Anti-bullying Week and Faith week where we work together on specific whole school themes.
Learning Gems - Have you got the Learning Power?
What are our learning powers?
These are some of the behaviours children are trying to acquire to help them become more effective learners.

Ruby power
Ruby power is the ability to work as a team.
It gives you the power to point out each other's success and let someone know when they are doing well. It helps you to remember and understand what people say and do, especially if the people in the team are smiling and happy.
People with lots of ruby power also smile, laugh, relax and feel good.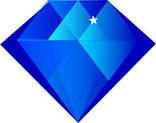 Sapphire power
Sapphire power gives you the ability to fight off monster distraction and keeps you focused.

Emerald power
Emerald power makes you feel challenged so that you feel 'butterflies' in your tummy. Once you get used to that feeling you can learn to control it rather than the Emerald power controlling you!
Don't let worry and stress turn off your thinking. This is when you loose your emerald power! Instead overcome your mistakes to increase your emerald power.

Diamond power
Diamond power is the ability to solve problems and learn! The more problems you solve the better you become at learning.
Click here for our Learning Gems overview

SMSC
Everyone who works in school is responsible for promoting spiritual, moral, social and cultural values to our children.
SMSC is promoted not only through all of the subjects of the curriculum but also through the ethos of our school. We create the ethos by teaching and modelling positive attitudes and values and by giving the children opportunities to experience and develop these attitudes for themselves.

The spiritual is concerned with developing the non-material aspects of life, focusing on personal insight, values, meaning and purpose. Beliefs that help provide perspective on life may be rooted in a religion, but equally may not. Creativity and imagination is important, as is a sense of fascination, awe and wonder. At Hatherley this is achieved through aspects of the curriculum such as art, music, geography and history.

The moral element is largely about choices, behaviour and how you live your life. It's also about personal and social values, understanding the reasons for them and airing and understanding disagreements. School assemblies focus on these themes through the SEAL topics. Also Learning Gems and Mindfulness in the classrooms help children to learn to make the right decisions by solving problems, being helpful and learning when and how to be calm.

Social development shows pupils working together effectively, relating well to adults and participating in the local community. This element of SMSC includes a significant area of personal growth, ranging from engagement with society's institutions to the skills for successful personal relationships. The children learn through The Pink Curriculum about how to keep safe, including the internet; people who help us, and how to be a kind and caring citizen.

Cultural development is about understanding and feeling comfortable in a variety of cultures. At Hatherley Infant School we have a diverse community which helps to learn and value different cultures. We also learn about celebrations around the world such as Chinese New Year, Eid, Diwali, Christmas and Easter. We visit the local mosque and church giving children to opportunity to understand different beliefs. Valuing cultural diversity and challenging racism is important.